July 31, 2012 by D
Enjoy the World of Japanese Food at Koto
BY RIIKKA VEPSÄLÄINEN
The Finnish summer is here but the weather feels miserably cold. I'm meeting up with my friend Daniela Talvitie (who you all know already, the founder of RAWR), and my sister Elina Felin (a fashion stylist, see her work here). With a combined girl talk and business meeting in mind, our group of three lady musketeers and baby Iris decide to take a risk despite the weather and treat our tummies with Japanese cuisine at the restaurant Koto. Koto is a cozy little place on Lönnrotinkatu, with the record of serving traditional Japanese food in Helsinki ever since 1986.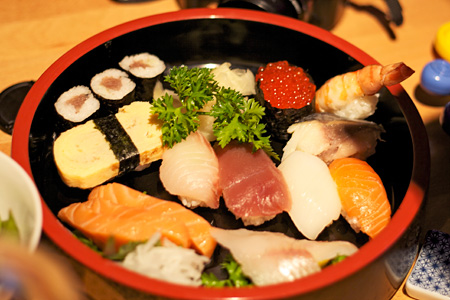 How many persons are needed to help a mother getting into Koto with strollers? The right answer is two. First Daniela goes ahead and holds the door open, while I open the second door, and then my sister Elina can wiggle her way through the narrow little stairs with Iris. We don't have a reservation and even though several tables seem empty, the staff asks us to come back after half an hour. With the cold wind blowing outside, we are disappointed that they don't make a suggestion for us to wait in the warm hallway. After twenty minutes, we return with numb fingers and feeling hungrier than ever. The waiter asks us if we need to have the strollers by the table and we all nod. The little princess needs her strollers, even if she is known for being an enthusiastic diner who loves her mother's lap.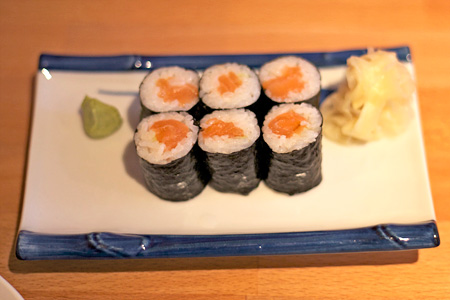 The delicious food makes up for the wait outside. The sushi arrives first, so poor Daniela has to wait for a while, but she is rewarded with a steaming serving of sliced beef. I can't decide which one I like more, my own or Daniela's dish, both are equally delicious to my taste buds. Daniela thinks some of the beef is a bit chewy but we are still very satisfied.
We are surprised that a bowl of rice costs extra in Koto, but the waiter educates us that the Japanese don't usually eat rice with the heavy meat dishes. Daniela and I want some, so we place our order. The meat alone, especially when deep fried, fills me up just fine even without the rice, so at the end of our dinner I understand the waiter's point. At the same time Elina enjoys her sushi and tries to keep Iris satisfied and entertained with toys: she seems more interested in the sushi than anything else. Koto's food doesn't disappoint us. For sushi maniacs who know the difference between fresh and not-so-fresh, we are more than satisfied.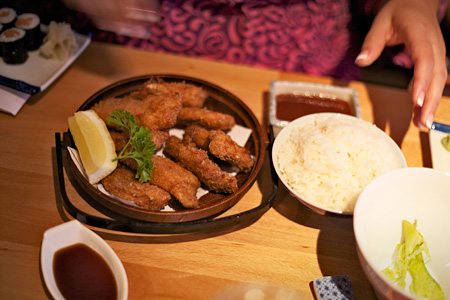 With full bellies, we are ready to move on to another location for some corner-store dessert (read: chocolate) but the waiter doesn't seem to notice, even though we talk about it out loud. Now, this is all very good for a bunch of friends who are talking the night away or for starry-eyed lovers who are gazing at each other forgetting the world around them, but for the three lady musketeers and baby Iris (and all together five children and two husbands waiting at home), we just want the bill and to be out of there. Finally we get the waiter's attention and ask him to help (serve) us.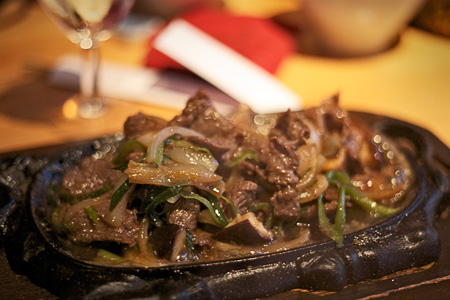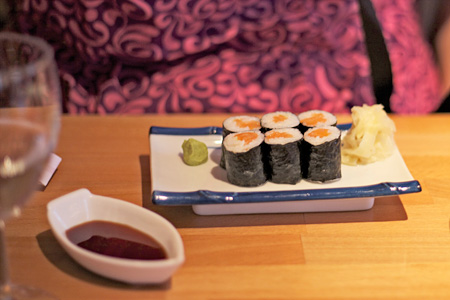 All in all, we are happy with the meal, even if the place doesn't have any ramps for strollers, play areas or menus for children, the atmosphere is children-friendly. None of the other diners seem to even notice that a baby is present, it is just a natural addition to the scenery, as it should be. But, if you wish to have lunch effortlessly by yourself with strollers and a baby, or if you are in a hurry and haven't made reservations or orders beforehand, then perhaps Koto is not the best place for you. If you wish to go with kids and join with other mothers to share a meal, then yes, do visit Koto for its delicious Japanese food.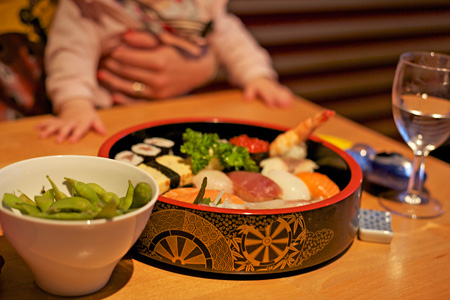 Pros
Tasty food
Fairly accurate quality – price relation
Cozy atmosphere and decor
Cons
Tight entrance and troublesome stairs for strollers
Slow service
No kids' menu
Follow RAWR in Facebook
Follow RAWR in Pinterest
---
Tweet
---
Leave a Reply