June 28, 2012 by yc
Finding Joie de Vivre
BY YC Felin / IMAGES by Daniela Talvitie / Anne Kukkohovi wearing couture by Irene Mikaela Häggkvist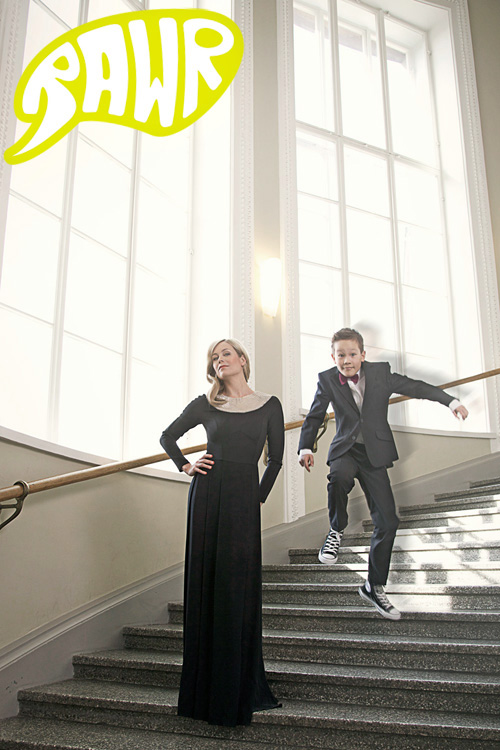 Make Up: Laura Andersson / Helena Rubinstein. Hair: Taryn Renee Barker / Salon Noir
The white house lies hidden behind its big brothers, located in East Helsinki. This little one greets the sea, its friendly neighbor, and hails the winds from the top of the hill. As I walk across the front yard, I feel being embraced by the soothing view and the soft caressing wind. I greet two young boys at the front door and ask if I'm at the right place. The dark-haired one says yes, the rest of the crew is inside. As I enter a cozy home and listen to the chatter of a group of women, I am greeted with a warm smile of our graceful host, Anne Kukkohovi.
Anne Kukkohovi, famous for her successful career in the advertising world, for her job as the host of the reality TV show Finland's Next Top Model, and for her beauty, is first and foremost an entrepreneur and a caring mother. Today Anne represents several international brands in Finland, gives inspirational talks about entrepreneurship, writes as a guest blogger for lifestyle media and consults companies in the matters of creative and graphic design.
During the hustle and bustle of the interview and ongoing styling, Anne asks if we want water and takes a break to make coffee for everybody. And she tempts us with jars of Ben & Jerry's that her family isn't able to consume, in case we want to take them with us. The hospitality is deep-rooted in Anne, showing a down-to-earth side that is familiar to her friends and family.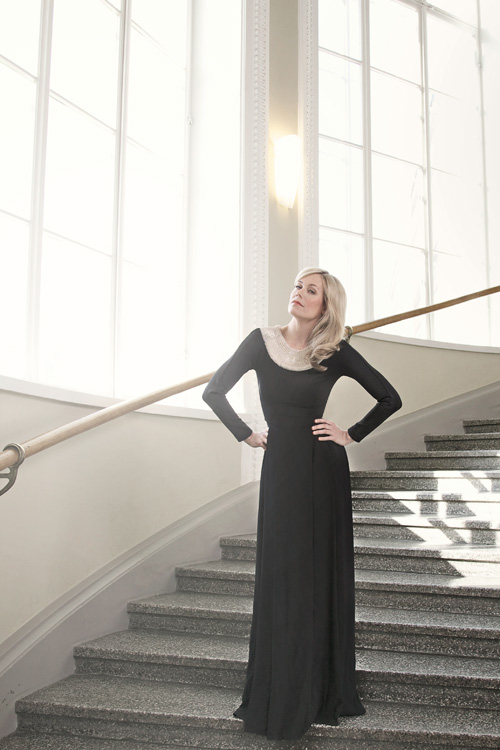 To the public, Anne is best known as Finland's own Tyra Banks, the host and the just judge of the Finland's Next Top Model, where young models compete to conquer the fashion world. With her background in international modeling and advertisement, Anne was the perfect option to run the show. "I was working as an art director and they [the production company] asked me to join [the Finland's Next Top Model]. I considered it and said no three times. They were really persistent and asked me to think about it. My workmate said to me, 'Are you going to regret [not taking the job], when you're 70?'," explains Anne. Indeed, three times is the charm and Anne hasn't regretted her decision to join the show.
I ask Anne whether working for the Finland's Next Top Model was different from her job in advertisement agencies. "It was what I expected it to be, it was nothing new to me," she replies. Wanting to create unique challenges for the models and fascinating content for the audience, Anne had many fantastic ideas on her mind. But the reality is grim. Anne sighs and says, "The Finnish TV scene doesn't have much production money. I realized, oh well I cannot do all the amazing things. It is basically up to the sponsors who decide. But we still come up with creative ideas, I think." Anne has been part of the show since its beginning and this year will be the fifth year running. Should the audience expect something special this year? "I don't know as the production is getting started. The show is always different, because there are new people in the production, so we'll see, and there are always surprises in reality TV. We do always have a theme, this year it is all about passion and ambition, " Anne reveals.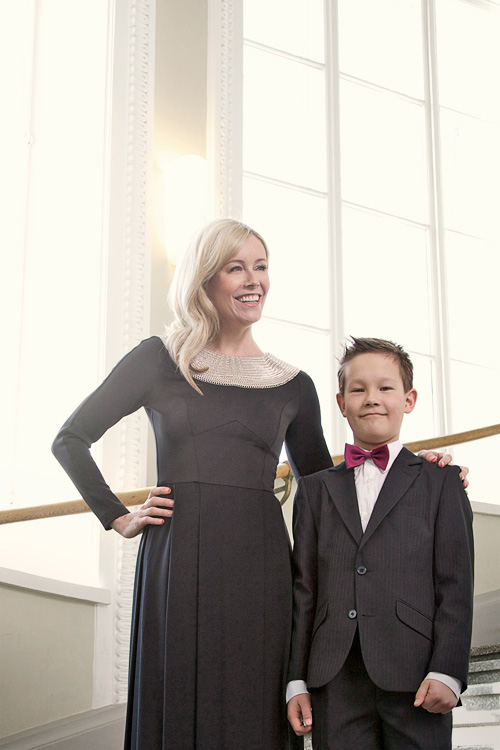 A modeling career is short-lived for most people. Did Anne have a B-plan when she did modeling? Anne replies, "Of course. I was quite old when I started, 19 years old. The high fashion models or catwalk models, they can do really well for two years and then the look is over. I was so plain-looking, with the make up you can alter so much."  I suspect that Anne is slightly joking, but she also seems to have a healthy attitude towards her looks.
"Basically I wanted to do something creative. Becoming a model was just a phase. When I was 27, I was really worried whether I should have a back-up plan. So I went to study graphic design, the same teachers as in the Aalto University School of Arts, Design and Architecture," reminisces Anne. After the modeling years, Anne was employed in the best advertising agencies in Finland. She wanted to pursue other interests as well, so finally five years ago she ended the rat race and became her own boss. "The advertising [work] took up too much of my energy," shares Anne. Working in the Finland's Next Top model eased the transition to become an entrepreneur, but she already had the necessary contacts and ideas to start her business. "Of course, when you want something, you will find a way. The biggest difference is that I can decide about my own work and my schedule. Being able to decide what I do and what I don't do. Although I think I work even more now."
Believing in the power of word of mouth, Anne's main focus is to deliver the highest quality to her clients. Anne explains, "I've been in the advertising business, the fashion and the TV world for many years. When you do your best, they [the clients] will tell somebody else. So it's basically a little network. The writings, lectures, and one by one they come to. When I'm working I really want to do the best, I'm really committed and diligent." Anne is not an overly planning type, so the future is still a mystery. "Two years on this, you never know, Especially when you are an entrepreneur, of course I would like to concentrate on a particular thing. Perhaps I want to have another company. To be honest, I think one day at a time, so we'll see what happens," contemplates Anne.
Her husband, Joni, greets us and starts to prepare food in the kitchen. I wonder what kind of man would be lucky enough to share his life with Anne. I ask her how she met Joni. Anne laughs and says, "He emailed me. We were in the same industry, we knew each other, but not each other's name. I was actually engaged with another man at a time. After two years we were both in a situation where we were both available."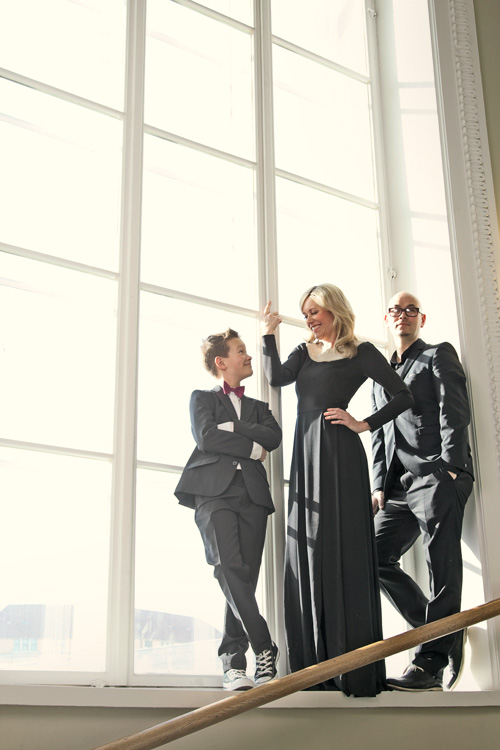 Joni knew before Anne that they would make a wonderful couple. Anne finally realized that after their first trip together. "We decided to go to New York for one week, just like that, we just decided to give it a try. It was the best possible trip." Struggling to remember what exactly they did in New York, Anne calls on Joni and Joni lists all the locations they visited. I'm impressed by how quickly Joni remembers the details of their trip. Anne concludes, "We walked a lot. Once it was raining like in a movie. I was waiting to the side while he got all wet. He said many times to me 'we should be together', he waited for me to realize it for myself."
As I look around I notice a lot of pictures of the dark-haired boy I met earlier, with his cheeky smile and twinkling eyes, and I find myself smiling back. Anne and Joni were together for three months when Anne got pregnant with their only child, Miska. "Miska is our love child. I didn't have a baby fever, but it was Joni that I wanted to have kids with, more like that way. I was always thinking that Joni would make a great father. It was good timing. I was 29 when I got pregnant."
Familiar with the guilt of working mothers, Anne confesses that it was hard for her to work when Miska was little. "One of the biggest reasons [for becoming an entrepreneur] is that I wanted to be with Miska. I really hate leaving him alone for many hours. I remember when I once was downtown while the daycare was closing and I needed to go there quickly. I had to speed up." Anne had another reason to worry, as Miska was allergic earlier. Anne shares, "I remember he was having hard time with asthma, a problem with his lungs. I feel like he should be at home [and not in kindergarten]. I had loads of work and my husband was working as well, it was really stressful". 
Being a stay-at-home mom after an active working life is something that I have had to struggle with myself. I ask Anne if she felt like missing out on the business buzz during her maternity leave. "I was working at the agency and I was getting really good jobs, that's the way it goes. At the time I felt like everybody else is doing my job. My career was postponed, but then again, having your kid is so important that you have time to work afterwards." Clearly with no regrets, she continues, "When you only have one child, you can do whatever you want. Of course, when you don't have the family or babysitting network, you might choose not to go to a party because it is such a hassle."
Miska is her priority number one. "Every mom knows how you are always tight with time, you can be there [for your child] in different ways. I think that when there is a will there is a way. Especially when you have only one child, who is the sweetest and kindest and easy-going," says Anne tenderly. Working at home has its advantages and Anne enjoys being at home for Miska, "Now I have a little office downstairs. I do all my writing and paperwork there. Of course, I go to meetings, but I'm quite often here, when he comes from school, and I'll fix him something to eat."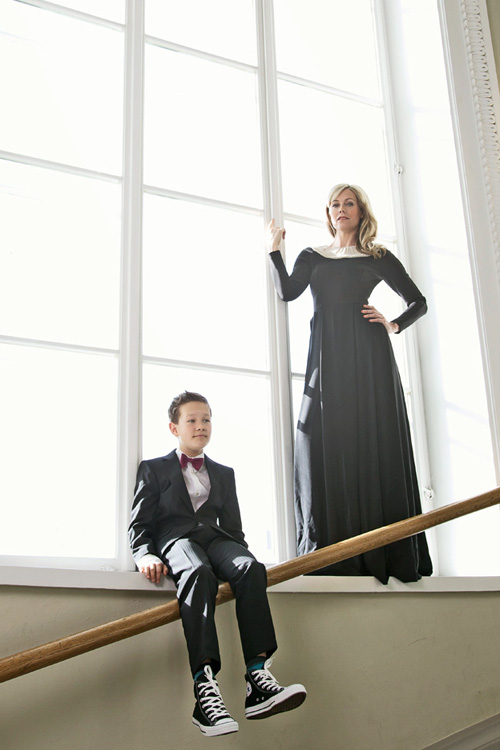 With a glow on her skin, Anne looks healthy beyond the miracles of beauty products. Anne admits being selective with groceries shopping, "I shop a lot at Ruohonjuuri for organic stuff. I also go to the market halls. I'm quite picky. The only convenience food we eat is the liver casserole [a Finnish traditional dish], because Joni loves it. If I buy tomatoes, they have to be the red ones or I'd rather not buy then." Continuing with the topic of personal well-being, she admits, "I'm striving for balance. My work can be stressful and irregular, sometimes I have to work a lot, sometimes I have days off. I need to sleep more, I need to think when I go out and when to do exercise."
One week later I see a striking advertisement by the sportswear company Reebok. I mistake the model for a young athlete, but realize that it is Anne in the poster, resembling an antelope about to spring. Looking lithe and happy, Anne is the embodiment of joie de vivre.
Follow RAWR in Facebook
Follow RAWR in Pinterest
---
Tweet
---
One comment on "
Finding Joie de Vivre

"
Leave a Reply