April 23, 2012 by yc
A Finnish-American Dream Come True
BY YC FELIN / IMAGES by Daniela Talvitie
Make Up: Tom Wennerstrand /Helena Rubinstein Hair: Tom Wennerstrand/ Salon Noir
More than once I have wondered why Finns are shy about their national epic, the Kalevala. The tale of the Finnish odyssey, a spell-binding story of the creation of earth that is ruled by Northern people in passion and in greed, should be retold through the modern means like performing arts, TV & movies, video games and even comic books. Entering the Klaus K hotel is to step into the world of Finnish mythology. The symbols and signs of the ancient mythology can be found from the smallest detail to the largest scale (like the egg-shaped reception). Being a strange mixture of cool Scandinavian design and ancient Finnish folklore, the Klaus K hotel stands out from other hotels with depth and character. Thank you, Klaus K, for telling the tale of the Kalevala today.
After a warm greeting from a reception staff, I am directed to Mia, who walks in radiant and chic as always. "I'm so happy to come to work. There's the young people who have to smile at me [because I am their boss]," says Mia mischievously, "With all those beautiful people smiling, I cannot complain; this is a nice working environment."
Mia Cederberg-Skvorc, a seasoned hotelier with a background in international luxury hotel chains such as the Four Seasons hotels, founded the Klaus K hotel with her husband Marc, who is also a veteran in hotel management. Mia and Marc form a formidable team, both driven and in pursuit for excellence. After more than a decade of career advancement in the United States, Marc and Mia relocated in Helsinki for two reasons: to build a hotel of their dreams and to put down their roots as a family. Thinking back Mia explains, "We moved a lot and learned as much as possible. We always dreamed that one day, we would do it [run a hotel of our own]. My bookcase is still full of manuals of every kind."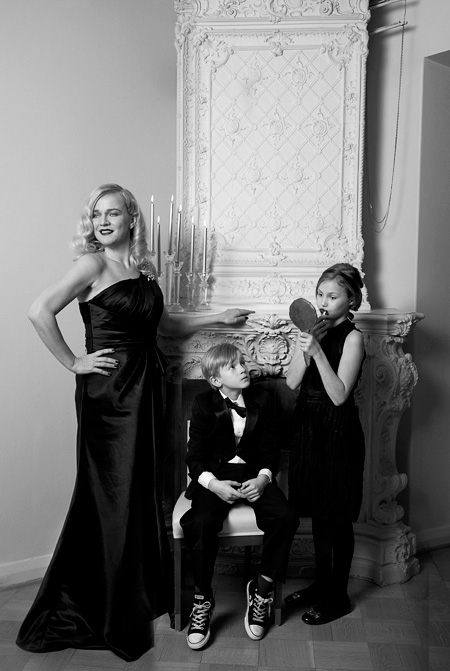 One often hears about how foreign men are lured to Finland by beautiful Finnish women. In their case, Mia would have liked to stay in New York and it was Marc who wanted to move to Helsinki. When the Klaus K hotel turned into a family business, with Mia's brother as the head of the company that owns the building, Mia became more involved and went back to work.
I ask Mia how she manages a hotel with her husband. "Marc is the one who creates the big picture. I deal with the daily operations. In a family business it is important to keep to your area [of responsibility]," says Mia and compares it to a situation at home, where children trick parents into saying yes, if parents are not careful. "The way you divide things has to be along strict lines," she says.
It is obvious that Mia enjoys working in the hotel business with her husband. I receive my confirmation as she describes their honeymoon. "We stayed in six different hotels, testing all kinds of hotels in locations such as Monaco, Rome and the rest of the Mediterranean," she says. Once a hobby of the two, it has now turned into a fun family activity. Especially their children Celine and Remi love exploring and rating hotels. "The only problem is when they start saying 'oh, we don't want to stay in anything less than three stars'. They get too comfortable and ask 'How many stars are there in this one?'," says Mia, shaking her head. 
Juggling work and family life is something that Mia and Marc master well. The nanny Maria provides help by taking Celine and Remi to and from school. Maria also does homework with the children and organizes their schedules of extra-curricular activities. Mia can work from home to some extent, but sometimes she needs to work in the evenings. Despite the late working hours, family gathers for a dinner together everyday. "In the Finnish standard, a 8 p.m. or 9 p.m. dinner is pretty late, but the rest of the world follows that. They [Celine and Remi] are on that schedule, so they still eat with us. Like I said it is a lifestyle," Mia explains.
Celine, the dramatic one, works hard to become an actress. At the age of 11, she has already started her own theatrical group, where she writes scripts, does casting and directs plays with her friends. Mia helps her daughter to find the right focus. "I'm there to alleviate Celine's stress. Celine might say, 'I don't know anything', and I will answer, 'well I don't know much either'. Now we dropped everything else and concentrate only in dance," Mia shares. Remi, an 8-year-old, has already decided to continue Marc's and Mia's legacy in running the Klaus K hotel. Mia describes her son's sense of duty, "He was telling his friends, when they talked about what hobbies they had this summer, that he does tennis, dances and works at the hotel," Mia laughs, "We really don't know what he does here [at the Klaus K]."
Klaus K is their second home. Mia shares a small sweet story about her children's relationship with the Klaus K, "I almost cried during Christmas time. They [the children] baked cookies, big jars of cookies for the staff and wrote a letter that said, 'Thank you for taking care of our little brother Klaus and we hope you enjoy them as much as we do'." Next weekend, Celine and Remi will test the new movie room designed by Harri Koskinen while Mia supervises the Klaus K Fashion Brunch (a fun trivia: the first Fashion Brunch was launched with our Daniela Talvitie). Mia calls the weekends "downtime" when the whole family can sleep in, have breakfast at noon and just take it easy. "Of course, sometimes they [the children] say that I spend a little too much time here. I try to explain to them that at least we are very happy. If I worked in the bank, from nine to four, I would be home earlier but I wouldn't be as happy."
Listening to Mia's description of her full week, I ask her if she needs time for herself. "I have a really good masseuse who is working with me on that. I do need it. Now that it gets sunny I'll start jogging. And we have a personal trainer, who comes to the hotel," explains Mia. "I need what I call a white wall moment, I just stare at the white wall and think about things." Mia continues comparing herself to a self-cleaning oven, a metaphor of emptying your mind of irrelevant things. Having never heard of a self-cleaning oven before, I see an ad of one two weeks later. I am impressed by the concept of burning everything inside to ashes at an extreme temperature of 500 degrees Celsius. Yes, we all can use a mental self-cleaning oven.
"I have an advantage here at the hotel that there are new interesting people to meet from different areas of life, and that gives me a lot of energy," says Mia. When I ask about whether she enjoys the Finnish summer cottage experience aka mökki in Finnish, Mia exclaims, "That's the one gene that I've completely lost. I don't understand the whole point of mökki. You sleep in small quarters and there is no washer, so you do dishes all day. Then you go to the outhouse, [not forgetting] all kinds of bugs. The most panic-driven thing for me is to go into the woods. It's a work camp."
What would be her day of perfection? "For me that is a Sunday in New York, still quiet in the morning, and I'm sitting in the back of a taxi. It is a beautiful sunny day. In this sense I'm not a Finn," says Mia. Just like the first scene in the movie Breakfast at Tiffany's, where Audrey Hepburn travels through the empty streets of Manhattan in a yellow taxi. A morning in New York is full of promise and hope.
I ask her to describe herself as a mother. She confesses that she is critical of herself, always feeling guilty on account of working too much. However, she thinks it is important to instill a good work ethic in her children. "I am a little worried about young people nowadays, the work ethic is not always there. I want them [her children] to see that you can have nice things, but that you have to work hard for. I believe in exposing them to different things. Me working is to set them an example," she says.
Jokingly Mia continues that no matter what you do, your children will end up in therapy anyway. Once Mia put Celine in a corner for a couple of seconds as a punishment. "Half a year later, Celine asked me what timeout meant. I told her that timeout was that you'd done something bad. You have to sit on a chair and think about it. She [Celine] goes, 'oh, is it just when you put me in the laundry room for three days'," Mia laughs, "I was like, 'what, how would that work, where would you sleep.' Celine replied, 'Oh you took me out and you put me back,'.
When children grows up, their love changes. "Remi said to our babysitter Maria, who's 23 years old, 'Maria you have some wrinkles, my mom has none', I'm still basking in this endless love of an 8-year-old," Mia says wistfully, "Celine has separated herself from me whereas Remi hasn't. They can just love you and don't think about being critical of you"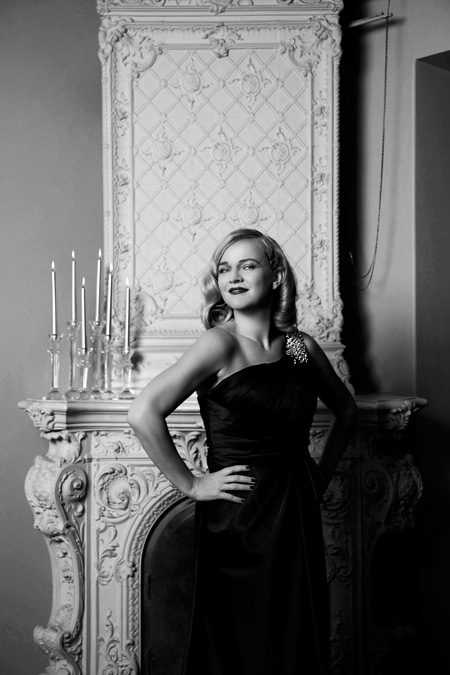 "I also believe I'm not their friend. They can have many friends and we can do fun stuff together. I can be friendly, but they have only one mother," Mia says with certainty. With having family members from different cultural backgrounds, the family unit is close. "You stick together, especially when we were in the States, we didn't have relatives helping us. Even though we have relatives here, it still applies, because we have a different chemistries; we speak English at home."
I asked Mia if they had plans to move abroad, that being easy with a multicultural family, and she replies, "This [Helsinki] will always be our home to some extent. We're not in any rush. We live in Katajanokka, the school is right there, the children are happy with the surroundings. It would have to be a really good opportunity to uproot the whole family."
"My dream is to have a place somewhere in Long Island. Run a small inn, close it for winter. But that's still very much of a dream, with no reality in it. In a Hollywood movie people go to Tuscany, but I would go there. There would be only ten rooms. Marc would barbecue for the guests. That would be my mökki," smiles Mia radiantly. Having a full-filling family life and the Klaus K hotel in her track record, Mia knows how to make dreams come true, and I believe that she will have her inn one day.
Follow RAWR in Facebook
Follow RAWR in Pinterest
---
Tweet
---
Leave a Reply