February 22, 2012 by Isa
Reluctant Designer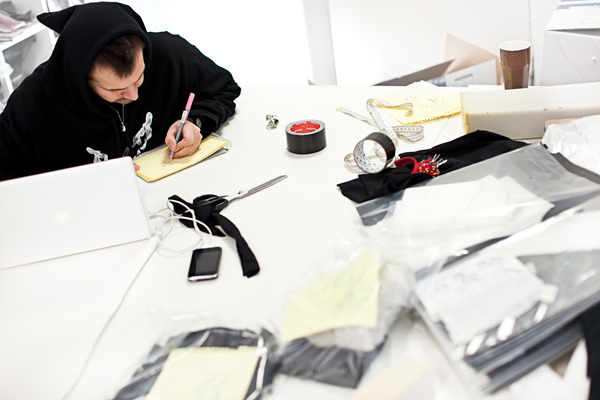 By Isa Junkkari
Images courtesy of Daniel Pallilo
Daniel Palillo is known for designing quirky, oversize clothes with grotesque monsters and skulls, and with words such as HELL written across them. Lady Gaga wears his clothes, which should give you an idea, and he is really big in the odd little land that is Los Angeles. He also recently started designing for kids.
I meet Daniel on a rainy day in June at Market Café inside Moko, located in the design district of Helsinki. It is a whimsical little place, with bikes hanging from the ceiling, mismatched chairs, a comfortable couch in one corner. People chatter and eat food on shared tables. The atmosphere is happy and relaxed. Daniel is tall, strong, bear-like, with a well-groomed beard, and clear blue eyes. He wears a hat, sneakers, baggy mid-calf length jeans, and a black shirt (that has a tiny skull on it, his own design.) He carries an umbrella the way I imagine a superhero in a graphic novel carrying one, like a mix of toy and weapon. He is well-mannered. He carries my food to the table. He gets me a napkin, cutlery. A rarity for a Finnish guy. (He later tells me he is half-Italian, and that explains things.)
I can tell he is uncomfortable, having to talk about himself. When he does talk, his answers are short, honest, matter-of-factly. Finnish.
When I ask him about his fashion philosophy, he says simply: "I don't like the fashion industry. I only go to fashion weeks because it's work, I have to. It's really boring, standing there the whole day." And when I ask him who his favorite designer is, he states: "I don't have one. I don't care about it, at all. I just like to do my own thing, do what I do, and enjoy it."
Daniel tells me he didn't set out to be a designer. He studied fine arts first. But he had dabbled with fashion design in high school, when he realized he had some interest in designing his own T-shirts, and at one point, studying fashion seemed like the right thing to do, so he did, at the Aalto University School of Arts, Design, and Architecture. "I just had a need to do clothes," he explains. Since then, he has become a full-blown clothing designer, a role he doesn't necessarily feel restricted to in the long-term. "I want to be a creative person," he says.
Tell me more about your work.
"The work is really boring. It's 99% depressing. But when you have finished something, you get excited." 
Do you wear your own clothes?
"Yes. What's the point of designing clothes, if you don't want to wear them yourself?"
What made you want to design for kids?
"I don't know. I had some new ideas about colors."

I tell him that I like his kids clothes, very much, and he says thank you.
His clothes are unusual; imaginative; mysterious. Like the man himself. It's true, his kids clothes have monsters, and skulls, too. (You can see more of his kids clothes a few posts down, here.) But Daniel Palillo's monsters aren't scary. They seem to say, there is fun in monsters, there is humor in melancholy, none of this is real.
His clothes also seem to say, to anybody who is looking, which is the whole fashion industry (and I'm putting it into the words of one of his own shirts): Go 2 Hell, written in friendly, large yellow letters.
In my head, which is prone to fantasizing and imagining things, Daniel is quickly becoming the in-your-face-fashion guerrilla fighter, the breath of fresh air the fashion industry has been waiting for, the one who will change things up a bit.
Would you mind if I were to label you a revolutionary, a rebel with a cause?
"No, I am not [a revolutionary.] I don't have an agenda to change the world… I just want to do what I enjoy."
We say our goodbyes, and then he leaves, quickly, dashing into the rain, holding onto his umbrella. And I cannot help but wonder if there is a little bit of magic coming out of that umbrella somewhere, if it can make butterflies appear somewhere, or if it can destroy the real kind of monsters that exist in your head.
 To see more of his clothes, go check out our post Little Circus Freaks!
Follow RAWR in Facebook
Follow RAWR in Pinterest
---
Tweet
---
One comment on "
Reluctant Designer

"
Leave a Reply