February 28, 2012 by Isa
Like Mother, Like Daughter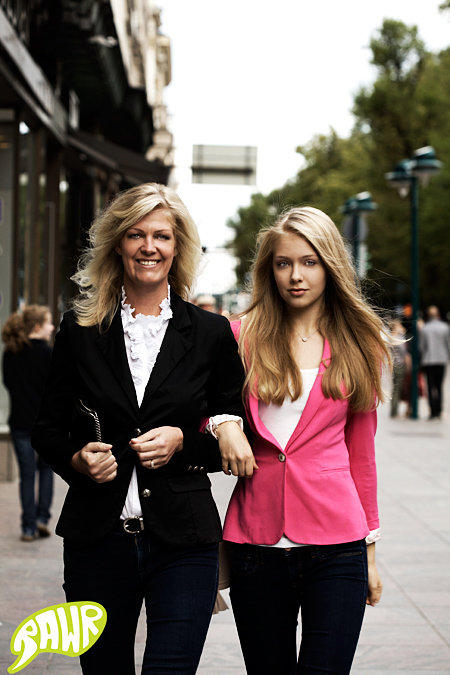 By Isa Junkkari / Photo Daniela Talvitie.
Linda Vainio shot to fame last year after being cast on Saimin enkelit, a Finnish reality TV show following a group of young models. When several Finnish news sites ran stories about topless photos appearing in her portfolio, forums and blogs quickly filled with concerned mothers discussing whether it's appropriate for a 14-year old to model, and whether or not a 14-year old can, or should be allowed to, be sexy.
We meet Linda and her mother at the crowded Aalto Café on the second floor of Akateeminen Kirjakauppa, the popular book store in downtown Helsinki. I'm a bit early, the first one there, a feat that rarely happens because, quite frankly, I'm tardy like my mom. Daniela arrives a short while after I do, on time, and we start wondering if we have marked down the wrong day. Because neither of us is ever in time for anything. And the two of us together means a natural disaster waiting to happen, delaying everything and everybody's plans by at least an hour. (Really. You can ask our friends.)
After a few minutes of wondering, we see two impossibly tall blondes wander in. Linda's mom, Lisa, must be something like one and a half heads taller than me (and I'm not short). Both wear skinny jeans and fitted blazers and have perfect make-up. I adjust the bobby pins, which are falling out of my hastily wound updo (how do you make them stay in your hair?).
Linda's pink blazer and smile stand out in a crowd of monotonous Finns.
So Linda, tell me what's been the favorite project on which you've worked?
- in modeling?
Well it could be whatever.
- oh. Modeling. Definitely. One of the coolest shoots I did was actually… an experimental kind of shoot. It was very kind of different. We had swim caps on in all these different kinds of neon colors, we took our hair back completely, and the make-up artist did all kinds of geometric shapes on my eyes, and it was very kind of fun and dramatic. It took probably, what, seven hours?
- (Lisa): It was outside, in Dubai.
- Yeah, so you can imagine it was very hot. I was wearing jeans, it was very hot. But it was so much fun. They let me kind of do my thing, so. With me, it's like, when the photographer lets me just go and do my own thing, then everybody usually ends up very impressed with me. But when I'm… suppressed, then that's kind of more difficult for me.
 How long have you lived in Dubai?
- Probably altogether 7 years. We lived there a while ago. Probably 10 years altogether, also in Saudi Arabia. Yeah, but it was my home, because I made such amazing friends. Like nobody you've ever met before. We moved away for a little bit, but then we all missed it so much, we all wanted to go back, so we did. There are a ton of international people there. I have friends from Holland, Germany, from America, everywhere…
- (Lisa): Australia, South Africa… only 10 percent are local there.
- Yeah, so you hardly ever see them.
- (Lisa): They keep to themselves during the day, and only come out during the night. They even have their children in the shopping malls at 11 pm at night, when they should be waking up early in the morning to go to school.
What language do you speak?
- I speak English, I speak Finnish, I've studied Spanish for 3 years, Arabic for 7 years, and now I'm studying German in my new school.
Oh, sehr gut!
- Ja!
- (Lisa): We also lived in Germany two times.
- Yeah twice. I love Germany. I'm obsessed with the language. I'm so excited.
I am from Germany.
- No way! Where in Germany?
I'm from Düsseldorf.
- No way!
- (Lisa): We lived in Düsseldorf.
- That's awesome! Let's just do this in German. I love German.
That's rare that I hear that.
- (Lisa): Germany is like our second home. We still visit friends there regularly. And every time we fly over it, we're like, we're home. We lived there for eight years.
You are international.
- Yes, very.
- (Lisa): Maybe I am not the typical Finnish mother?
So, what language do you speak to each other? Finnish?
- Yeah. That's how I've kept the language. Because all my life I've spoken English to my friends, I've studied in English… that's why I haven't forgotten it.
- (Lisa): But sometimes when she was small, she'd come home from school, when it was closer to the summer holidays and her Finnish had become a little quirky. And she'd be so excited about something that happened in school, and she'd say: oh my gosh, and, oh, can I explain this in English, I don't know how to say it in Finnish, can we speak English. So, sometimes we'd say a few things in English to each other, little things. But my husband and I were very strict about restricting our language to Finnish at home. My husband is Finnish…
- We are Finnish 100%.
If you could have a dream photoshoot, what would it be like?
- I already have. Guess is just… I love Guess. Their photoshoots are just very sexy and fun.
So, what happened? You really love Dubai, but then you thought you'd give Finland a chance?
- Yeah, that's what happened. The thing about Dubai is that you go there for a couple of years and then everybody eventually leaves. And now in the past two years, pretty much all of my close friends have left. They've all moved back to Holland or Sweden or something. And I was in Finland during the summer, and I was just so happy here. I was walking on the street, smiling like a complete idiot, everybody was staring at me. I was just so happy here, you know, so I decided, why not, let's go. A few days before school.
- (Lisa): Let's give it a try.
- Yeah. It's worth a shot. I'm very open to try new things.
Who is your favorite designer? You mentioned Guess. Was that just the photoshoot? Or the designing, too?
- Yeah, the designing, too. I love their clothes. They are the kind of clothing that suits my body. It's very kind of flattering and just sexy. And fun-going. I love Guess. And also Marc by Marc Jacobs. I find that very fun. Especially their dresses. I love their dresses, they are usually very colorful.
So you like color. I can see that. (I am staring at the pink blazer as if it were one lonely macaque monkey in the zoo.)
- Yeah, I was standing out on the street a bit, everybody here is in their greys and blues.
The conversation turns to Linda's drawing skills. Lisa has brought some of Linda's cartoon strips and shows them to Daniela and me: A girl and a boy falling in love in school. Friends. Heart shapes. They take me back to my teenage years.
- (Lisa): She is so talented!
- I just do cartoon characters.
- (Lisa): Small things she's been drawing. She has never taken any classes. She just enjoyed it, when she was small, she was always drawing, drawing, drawing. I think it has developed to the point where we need to do something with it.
When you think of the future, do you see yourself as a model or as an artist or something else entirely?
- I actually have no idea what I want to do in the future. Complete blank. I change my mind all the time. First it was marine biologist, then it was vet, then it was supermodel, now it's still supermodel.
- (Lisa): These two things, modeling, and drawing, have been there all the time.
- Always. It's such a passion for me. I love doing both of them, so why not kind of, incorporate them into a job.
What does your normal everyday life look like?
- I get up, shower, eat. Very healthy. I'm a very healthy person, just by nature. I love eating healthy, I don't like burgers or whatever. So, anyway, I eat, have healthy breakfast. Breakfast is usually an egg white omelette and a side of fruit and a tea. Oh my god, I drink so many cups of tea, I'm addicted . It's kind of bad but yeah. I go to school, then homework, then I try to have an activity. I love going to the gym… I like to power-walk. You know how you start running at 7? Yeah I powerwalk at 6.5 /7.
- (Lisa): She fills her days in such a way that her father and I don't have to worry about her. She is so hard-working and so ready to do things all the time. She wants a power bar for breakfast, and then she'll go before school to go get it. I mean who does that? What 15-year old? Who gets up and says, I'll go by the store before school at 8 am?
- (Daniela): Where does she get [that discipline]?
- (Lisa): From her father.
- Yeah, we are both very positive and energetic and hard-working.
Are you an only child?
- No, I have an older brother and he is graduating next year.
- (Lisa): Yeah and he is the opposite. He is just that cool good-looking guy, you know, hanging out. He is in Dubai with my husband, finishing his last year. And I'm here with Linda. I'll be traveling back and forth.
But you like traveling.
- No, I hate it. But that's how it is.
(To Lisa:) What your everyday life like with your children?
- You know my life has always been outside Finland, which is very different from this life here. It is difficult to compare. First of all, living outside, basically all the mothers stay at home. It's very accepted there. There is so much more to do during the day. In Dubai, everything takes so much longer. For example taking the car to the service. It takes so long there. Here, I live in the center and I can take care of very many things, in a very short amount of time, because everything is close-by. But my basic day is that I wake up early and make sure the kids have everything ready for school, that their uniforms are ready to go. Then I drive them to school. Right now we have a horse so I'll drop by the stable and go riding. I come home around noon, take a shower, and then take care of some things, such a taking the car to the service, meeting friends. Then it's time to pick up the children. I go to the stables again, go shower, and then I go to bed. Very early.
(To Linda): Do you go to bed very early?
- No. (laughs)
Lisa continues.
- The thing is, with Dubai, in the summer, like now, it's very hot, so I can't go riding during the day. So I have to go riding early in the morning before I take the children to school. So I'm up at 5 am, get into my riding pants and am off to the stable. How my life will be here I don't know yet. I do have plans. I have a great meeting tomorrow. If things work out, then I'll be working here…
- You can't compare. One of my friends used to be a career woman in Finland and when she came to Dubai she wanted to stay home with the kids for at least one year. She wanted to be the one to drive them to school etc. And you know, she said that they all have so many activities during the day that she would never see them otherwise. That's just how it is in Dubai. It's difficult to explain. People are so busy, but if I ask my friend what she is doing during the day she can't really tell me. Like, I might have plans, but then my husband might call and tell me the car needs to be repaired, or something else, and I have to drop everything and do that.
(To Linda): How old were you when you started working?
- 14.
How old are you now?
- 15. I got my portfolio at the end of last summer. And then it basically led to a job immediately.
- (Lisa): They say immediately that she is so talented, so fearless in front of the camera. She did Harper's Bazaar. And then everything started happening. And then she got selected to the TV show [referring to Saimin enkelit].
Tell me about that.
- I loved it. It was very tiring. We were going seven  hours a day, trying to run to castings. But even though it was difficult, it only reaffirmed how much I want this. And all the other girls were so much fun. We had so much fun. We had this favorite organic pasta place, and we'd go out every night.
- It's so weird, you know. When I came to Finland, people recognized me a few times, at McDonalds and stuff. They'd be like: oh my gosh, what's your last name? And I'll say Vainio. And they'll be like, oh my God. You are from Saimin enkelit.
Lisa, you were there the whole time.
- Yeah, she was my biggest support... And referring to the topless photos, she says:
- It's just that I was young, you know, and they [the Finnish newspapers] created a bit of a drama. I guess because I was young and easy to latch onto. In other countries nobody cares, but in Finland I guess it was a bit of a scandal.
- (Lisa): Mom: But, in the end, the newspapers did her a favor [with all the press].
- My mother was always there for me. I don't know what I would have done without her.
- (Lisa): You are going to make me cry now.
- Really, we are like ridiculously close. She is one of my best friends, we have so much fun together. When I was in Milan [with the show], you know, even though it's my passion, it was really tough. She was there. I could always talk to her. We were laughing so much. I'm not one of those teenagers who are ashamed of their mothers, who are like I hate you slamming doors or whatever. I'm like Mom, I love you.
- (Lisa): One night, I had been out with my friends, and when I got home, there was a plate full with blueberry muffins, which are my favorites, with a lovely note.
To Lisa: What does it mean to be a supportive mother?
- It's as simple as, whatever she wants, whatever she needs. As long as I'm able to support her, I will.
How did Linda start modeling?
- That's a bit of a longer story. I used to run a modeling school in Dubai, and she wanted to come see, when she was much younger. She really wanted it, but I kept her waiting because I thought she was too young. Maybe that's why she is so passionate about it, because she couldn't have it immediately. I told her she'd have to wait until she was 14, and even when she was 14, I made her wait half a year longer. I didn't expect her career to take off like that, right away. And then the photographer who did her portfolio saw that she is so talented, and he told me that she could be an international model. I was at every photoshoot, in Dubai, and I saw her talent, so I could help her, do this, do that. Sometimes I helped her, in posings, she asked what to do, so I'd tell her to maybe try put her hand like this. (She twirls her hand in what can only be described as a graceful manner).
Did you use to model?
- I did some catwalks. And I had a small runway studio at home and I practiced with Linda. And actually, that's when I noticed, oh my gosh, she is so talented. I need some professional photographer to do her portfolio.
- (Linda): Yeah, and I enjoyed it so much.
- She had a school play this spring, and many people came up to me and told me how talented she is. She is shameless, you know. She is not self-conscious, she gives it all.
To Linda: What's your favorite subject at school?
- Arts. I've also always liked science. Especially atoms.
- (Lisa): Languages?
- No. I know languages, but I don't find it interesting to learn them.
 Lisa, what's your dream for her?
- I want her to be happy. It doesn't matter what she wants to be, as long as she is happy. That's the only dream for her I have.
- I must say that I decide to commit my life a little bit different from most people. I decided that my children are small only a certain amount of time and that I will postpone my needs. Of course some days I was frustrated at home, like.. this is so boring, or, I need to get something else out of life. But I kept a lot of my hobbies, sports… and I thought when they are old enough I will become very selfish. I still have so many years ahead of me if I want to work. I really have dreams, which, like I said, might come true, even in the near future. And in that case, I won't even have time for a horse.
I'm sure those last 15 years have gone by really fast. Or have they?
- I've learned so much. It's been so worth it. And now, having our relationship. I don't know if it would have been possible if I had been a career woman. I feel that I've made the right decisions.
At what age did you realize you had a special, talented child?
- I always thought they are only special in my eyes, and I wasn't expecting others to to notice that about them. But she was already, when she was 3 years old, we went to the playground, we went to the slide.. she never tried to make friends, she just drew other kids to her. She was always happy, friendly, smiling at everyone. She was always kissing everyone, even cleaning ladies, or drivers… she had such a big heart. People fell in love with her.
- Now she started school. The difference here is that Finnish people don't do hugging… In Dubai they always hugged. So, I said, maybe you could start it!
- (Linda): So yeah I did, and I didn't push it on anyone or anything, but now some  people have started hugging at school.
 What do your friends in school say about your modeling and TV experience?
- Actually, some of my Finnish friends didn't even know, and they were like, wait, why didn't you tell me. In Dubai, my friends were just amazing. Because when you start doing modeling, or high-profile kind of jobs, people might start getting jealous, but my friends were so amazing. Wishing me good luck and so sweet. Unlike anyone I've ever met, like I've said. Screaming, oh I'm so proud of you. I mean I didn't expect that, to have that kind of support from your family, and from your friends. It gives you such a warm feeling.
(Daniela): Do you ever get sad or upset? You always seem so happy.
- Of course. Nobody is always happy.
What puts you really down?
- People can be really two-faced, like, you can't trust them. With teenagers, there can be so much drama. Actually that's one of the reasons why I came to Finland. Finland is drama-free.

- (Lisa): But you can trust your friends, but…
- I treat people with respect. I am honest, and I am loyal.
- And for example Finnish school is a lot harder than Dubai school, so yesterday I was like, ahhh, I don't get this!
(To Lisa): Do you help Linda with homework?
- Oh, I wish I could!
You can see more pictures of Linda in this post.
Follow RAWR in Facebook
Follow RAWR in Pinterest
---
Tweet
---
Leave a Reply